Our fifth hike on 9/27/01 to 9/30/01 was 37.1 miles from Route 325 to Route 183.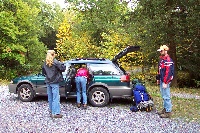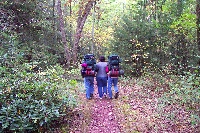 Cheryl kindly dropped us off and escorted us the first mile
or so up the mountain.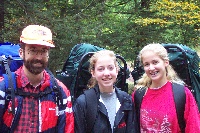 We hiked through a relatively dreary day with many A10 attack
planes flying overhead from the nearby Indian Town Gap Military
Base presumably in some activity related to the recent World
Trade Center terrorist attacks.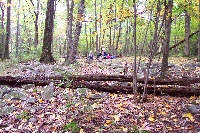 We passed through the remains (barely any remains actually)
of the old village of Yellow Springs. There were old mines
all along the trail. The minerals in the spring water in the area
made the streams a rather bright orange.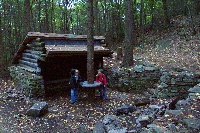 That night we stayed in the Rausch Gap shelter and avoided
little sprinkle of rain that happened after dark. When we left
in the morning, Heather found a bear paw print a short way
down the path.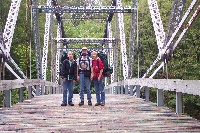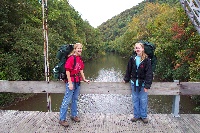 We crossed Swatara Creek on the old iron Waterville Bridge.
This bridge was moved to this location to carry AT hikers!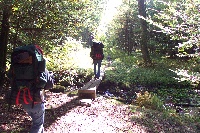 We crossed Haystack creek on a somewhat smaller
wooden plank bridge.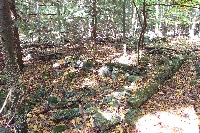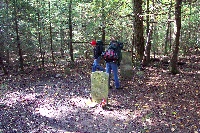 At the ruins of Rausch Gap Village we found a few old building
foundations and a small cemetery with three stone markers.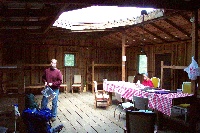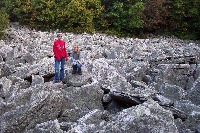 The Route 501 Shelter was the first shelter with doors that
actually closed with nice bunks, a table and chairs. We stopped
in but didn't stay due to the hour. We later hiked by this
boulder field that we investigated.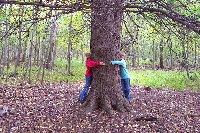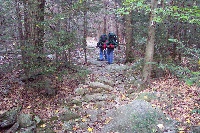 Some of the trees along the trail were fairly large. The rocks
in the path were fairly large as well.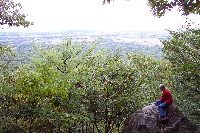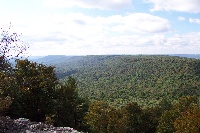 Here Heather contemplates the scenery. The mountain on the
right is where we hiked this day so far. The Route 501 shelter
is about halfway back the mountain ridge.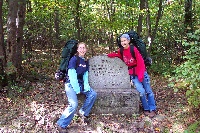 Our last camp site of this hike was just a few miles short of the
end. Right near the end of the hike at Route 183 we passed
a monument marking the location of the Fort Dietrich Snyder
that was used for protection from Indians in the mid 1700's.