Our fourth hike was on 4/13/01 to 4/16/01 for 35.5 miles from Route 11 to Route 325.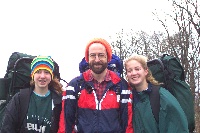 Three happy hikers ready to go!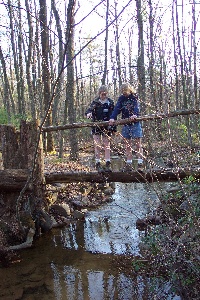 At our first camping site, the girls had boat
races under the little log trail bridge over a stream.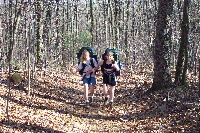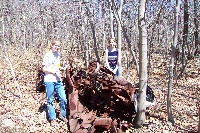 On our second day, we found this old rusty hulk of a car along
the trail and investigate it in detail.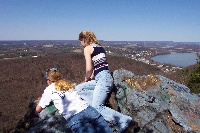 Before we started the long steep decent into the town of
Duncannon, we checked out a nice overlook with the town
off in the distance.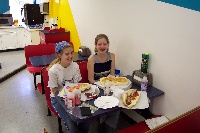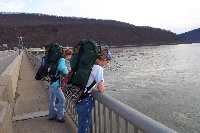 When we got to the town, we had our first ever sit-down meal
in a combination gas station/deli. Even though it was only
subs and a meatball sandwich...it was luxurious! We then
hiked 2 miles through the town along the sidewalks and then
crossed the Susquehanna River on the Clarks Ferry Bridge.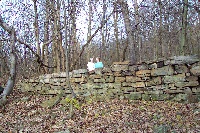 After crossing the Susquehanna River, we made the long steep
and exhausting climb up the other side of the mountain. We
stopped for a rest at the foundation of an old mule barn at the
top. The photo to the right is of one of our slithery friends on
the trail.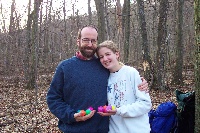 On Easter morning, Erica surprised Heather and me with an
Easter Egg hunt. She had secretly packed these plastic eggs
and some candy for inside them for the the whole hike just to
give us the treat of an egg hunt.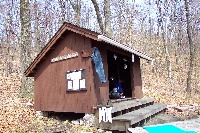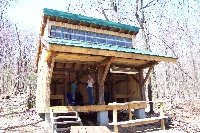 We passed two nice shelters, but didn't stop because we got
to them in the middle of the day.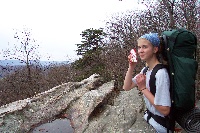 Mmmm Skittles! Looking back to the Susquehanna River.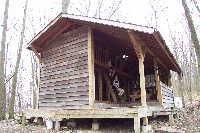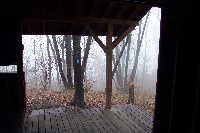 On our last night, the forecast was for rain so we decided to
stay in this shelter. It was a good call because it rained
hard during the night.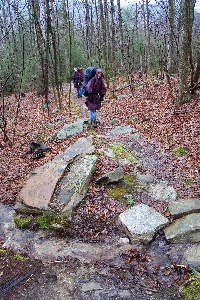 And it rained all the next day too.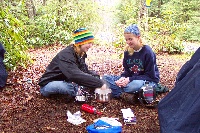 When we got to the end of the hike, we tied our ponchos up
as a "pavilion" and cooked lunch under them while waiting for
Cheryl to pick us up. This was Monday April 16th and Cheryl
had picked up our taxes at our accountants on the way to get us.
I reviewed and signed them in the car while we searched for
a Post Office. We didn't have a checkbook with us, so we
paid our local tax that had a balance due with Postal Money
Order we paid for with a MAC card!