Our third hike on 10/28/00 to 10/29/00 was 16.8 miles from Rt 94 to to Rt 11.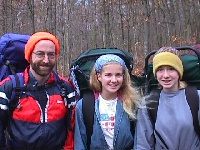 Three happy hikers are ready for their third hike!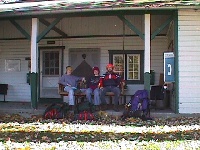 We passed through the town of Boiling Springs where the Mid Atlantic Appalachian Trail Conference Office is located. We went through town on a Sunday and the office was closed, but we sat on their porch swing for a picture.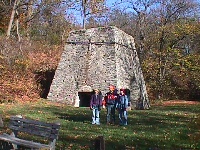 The town of Boiling Springs has an historical Iron Furnace which we investigated.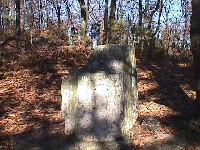 This is a monument (somewhat defaced) on a promontory called Center Point Knob. This was once thought to be the center point (get the connection?) of the Appalachian Trail. But with constant trail rerouting and increasingly accurate measurement capabilities, this is no longer considered the center point. Sad, since they named the hill and built a monument... how can they expect to know the center when no one even agrees exactly how long the trail is... Most people agree that the trail is close to 2200 miles long.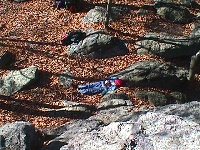 Heather takes a break at the bottom of a lookout rock. (No! She climbed down.)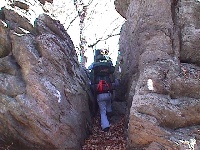 The trail planners pass the trail through a rock maze that is quite interesting. At some places, a hiker with a large pack can just squeeze through. This spot wasn't the narrowest we passed through.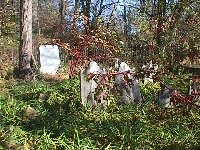 Another old cemetery. We occasionally pass through areas where in the distant past small towns and villages had sprung up around mines or other employment opportunities. Invariably there is a small cemetery that usually seems to ironically outlive the town. The dates on the stones are typically 150 or more years ago. We are always fascinated by them and read most of the inscriptions when they are still legible.

Spam anyone? This has become a breakfast tradition. Strange how food we would never eat at home seems right at home on the trail...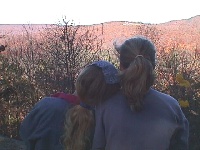 Heather (L) and Erica (R) enjoying the early sun lighting up a mountain to our west. We are still in the shade of the mountain we are hiking.