Our second hike on 11/11/99 to 11/14/99 was 30.6 miles from Caledonia State Park to Route 94.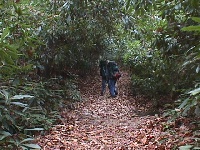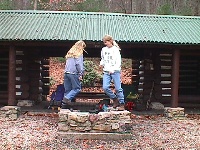 On the first days hike we followed the trail through huge thickets of Rhododendons. We assume these are beautiful when they are blooming. But this fall they were just green. We came upon a very nice shelter with two sleeping rooms with a pavilion in the middle with a picnic table. Erica and Heather apparently had enough spare energy to race around the top of the stone walled fire pit built out front.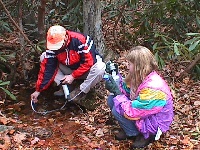 Before we left that shelter area, we filtered water to fill our canteens.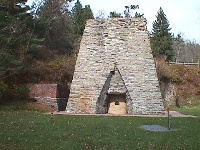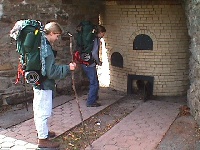 This hike took us right through the Pine Grove Furnace historical area. Here is a restored furnace with the girls standing inside next to the blast chamber where the iron would be poured out into the molds.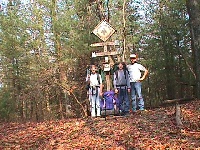 Soon after leaving the Pine Grove Furnace Ironworks, we came upon the (disputed) center point for the entire Appalachian Trail. The post is labeled as the center point saying that it is 1069 miles in each direction to the two end points.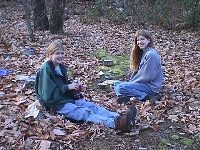 When we are hiking at meal time (which is most of the time) we typically find a nice spot a short distance from the trail and set up the kitchen. The fact that it is the kitchen can be detected by the presence of a stove and people sitting around eating.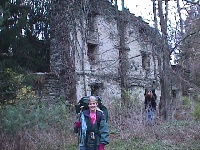 On this hike we passed by the ruins of a building that had been used as a prisoner of war camp during World War II.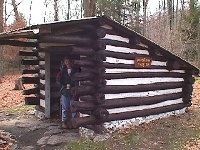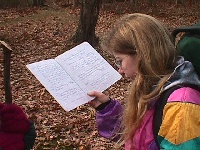 Another shelter we didn't stay in. We typically don't stop in a shelter if we happen on it in the middle of the day. We just visit, read some of the log entries, add one of our own and go on our way.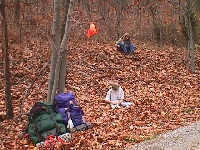 Here we are sitting along the road waiting for Cheryl to come pick us up. We always hang my orange hat along the road so she can find us easily. Most places the trail crosses the road are marked by obvious signs labeling the Appalachian Trail crossing. But the orange hat is a nice tradition.